No matter what business you're in, a strong email marketing campaign will be crucial to building your brand in the years to come. Good email marketing will keep a healthy amount of traffic coming into your website, retain recurring traffic, and build trust with your customers. Best of all, email marketing is **dependable**! Once you've got an email on your list, they'll be getting all of the content you send them. A problem arises though — with so many tools out there how do we know which one to go with? Well, we've narrowed it down to two of the most popular choices:
Mailchimp – one of the most popular for email marketing platforms and good reason. It's been around since 2001 and has a massive user base today.
ConvertKit – this new kid on the block has been challenging Mailchimp's dominance.
Let's get this out of the way first: they're both great platforms for your small business. You're not going to be upset with either one. However, this article should help you pin down the **perfect** choice for your business.
**Disclaimer: I'm not affiliated with either Mailchimp or ConvertKit. This is an unbiased look at the two platforms.**
Pricing
I know from experience that this will be the biggest factor for most of our readers. Fair pricing is a critical aspect of every single choice that a small business makes. And anyone who's trying to convince their boss to sign off a new tool knows that they're going to have to have the numbers ready to share before they get the go-ahead.
Mailchimp

One of the coolest things about Mailchimp for those that are just getting started in email marketing is that users can have up to 2000 contacts and basic functionality for free. That's right, free. For those campaigns that are a bit more established, you can have up to 50,000 contacts for $9.99 a month and up to 100,000 for only $14.99 a month. It's no secret that Mailchimp has great pricing for small businesses.
ConvertKit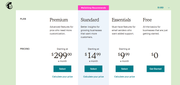 You'll notice that ConvertKit doesn't provide a free option at all. This is pretty unenticing for anybody with a very small audience. They do offer free trials but their cheapest option after that trial period ends is $29 a month and that option only allows up to 1,000 subscribers. To get up to just 5,000 subscribers you'll be shelling out $79 every month.
Winner
Mailchimp
One of the most popular for email marketing platforms and good reason. It's been around since 2001 and has a massive user base today.
Mailchimp has managed to stay relevant for so long by maintaining fair pricing options and it's abundantly clear that ConvertKit can't even compete in that department. If you're just getting started with email marketing or just starting a new business then a free tier Mailchimp account should do you just fine in the beginning. After that, Mailchimp will be cheaper for just about every business.
Ease of use
For your small business, it's also going to be important that you can bring your team up to speed on how to use your new tool. A platform is hardly worth it if it takes months to get ramped up and ready to go. Let's dive in and see how much work these two platforms are going to take to get going.
Mailchimp
This is where Mailchimp has been lagging. Maybe it's because many of their users have been with them for so long, or maybe it's because they've established enough market dominance that they just don't care. Whatever it is most newcomers to email marketing may not feel welcome using Mailchimp. However, with a little bit of effort, it shouldn't be too difficult to figure things out.
ConverKit
If you've done any research on ConvertKit then you'll know that the platform is very easy to use. ConvertKit's integrations and user-interface allow you to automate nearly everything you'd want to do with your email marketing platform. Also, creating a landing page on ConvertKit is honestly dead simple. The drag-and-drop style layout makes it as easy as customizing your Facebook page. Your team will be able to make rich landing pages day one. Overall, ConvertKit is just simple and easy to use.
Winner
ConvertKit
this new kid on the block has been challenging Mailchimp's dominance.
Your team is going to do fine with either option in the long term. However, in the initial stages, you'll probably find ConvertKit's user interface to be much more intuitive than Mailchimp's. With ConvertKit you won't find yourself googling how to do things or searching for third-party plugins for niche problems that you're having. ConvertKit will be your out-of-the-box closed-loop solution to email marketing.
Customization
With the constant bombardment of information, we're all being exposed to at any given moment, your content must stand out. Your emails and landing pages need to be full of valuable content that's one-of-a-kind. So, which platform is going to help you create that stand-out content?
Mailchimp
Mailchimp boasts 8 templates for landing pages. When it comes to customizing emails, Mailchimp's robust drag-and-drop editor makes it effortless to construct your perfect email vision. Mailchimp rules in the customization department… enough said!
ConverKit
ConvertKit offers 4 landing page templates. While they look very modern and sleek when compared to Mailchimp's options, the lack of choices isn't a good look. Also, further customization of these forms isn't easy. You'll need to be writing custom CSS to make any changes. This continues ConvertKit's trend of being the easy button option, but it's not impressing anyone that wants highly customized content. That trend doesn't continue with email templates though — ConvertKit doesn't provide **any** email templating! That being said, I don't mind designing an email from scratch but for a lot of people, this is going to be a deal-breaker.
Winner
Mailchimp
One of the most popular for email marketing platforms and good reason. It's been around since 2001 and has a massive user base today.
Unless you have the developer resources readily available to customize your landing page and emails, Mailchimp is going to take the win here. Again, ConvertKit offers some great templates out of the box but if you want to make your content truly your own then you're going to have your work cut out for you on that platform.
Conclusion
As always, things are going to vary from person to person. Do you value pricing over all else? Then Mailchimp is going to be your best bet. Do you hate tinkering with things and just want to get started as soon as possible? Then ConvertKit might be your guy. Do you want to customize every step of your email marketing process? Then again, look at Mailchimp. That being said, I use Mailchimp and I'm going to continue using it for the foreseeable future. My startup can get by using the free tier and as a developer, I don't mind using HTML and CSS to write custom emails. Your specific needs may make you lean towards ConvertKit, but for most people, I'm going to recommend Mailchimp.